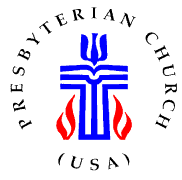 United Presbyterian Church
2360 Longwood
Ave., Reedsport, OR 97467 (541) 271-3214
Sunday Service:
10:30: Choir Warm-up 10:15 • Thursday Study Group: 5:30 - 6:30 (Starts in fall)
Office and Pastor's Hours:
Wednesday, Thursday and Friday from 8:30-4:00
.
Saturdays:
9:00-12:00
.

Making a Difference and Changing Lives Since 1919
---
Pastor Buck during Joys and Concerns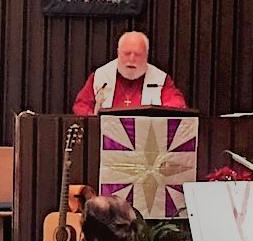 Sermon based on the Gospel of
Mark 6:1-13
1. He left that place and came to his hometown, and his disciples followed him. 2. On the Sabbath he began to teach in the synagogue, and many who heard him were astounded. They said, "Where did this man get all this? What is this wisdom that has been given to him? What deeds of power are being done by his hands! 3. Is not this the carpenter, the son of Mary and brother of James and Joses and Judas and Simon, and are not his sisters here with us?" And they took offense at him.
4. Then Jesus said to them, "Prophets are not without honor, except in their hometown, and among their own kin, and in their own house." 5. And he could do no deed of power there, except that he laid his hands on a few sick people and cured them. 6. And he was amazed at their unbelief.
Then he went about among the villages teaching. 7. He called the twelve and began to send them out two by two, and gave them authority over the unclean spirits. 8. He ordered them to take nothing for their journey except a staff; no bread, no bag, no money in their belts; but to wear sandals and not to put on two tunics. 10. He said to them, "Wherever you enter a house, stay there until you leave the place. 11. If any place will not welcome you and they refuse to hear you, as you leave, shake off the dust that is on your feet as a testimony against them." 12. So they went out and proclaimed that all should repent. 13. They cast out many demons, and anointed with oil many who were sick and cured them.
Sermon for Sunday, July 8, 2018
Many years ago I heard a young woman talked of how it amazed her that whenever anyone came to see her father, the king, how they treated him with such awe and respect. She said, "To me he's just dad."
It's this same thing Jesus faced in His hometown—the people knew Him; to them He's just "Yeshua, the carpenter's kid." To the girl above, her father, who wielded much worldwide power, was just, "Dad." Also bringing to mind the adage, "Familiarity breeds contempt."
This morning we read of Jesus failing in His own home town. A Lutheran pastor by the name of Mickey Anders once remarked that he watched a TV program where several young people were placed in a house together for six weeks. One of the girls made the remark, "I have never failed at anything I have ever tried to do." He said, I think I will never forget her honest confidence as she said it. Maybe it caught my ear due of my own struggles with failure. But I remember thinking, "Yeah, I was young once too."
We have all failed at something at one time or another, or we haven't tried very much.
If you live long enough and attempt new thing, you will run into failure. People fail every day. We suffer from failed relationships, failed marriages, failure at work and failure in health. Most of us can identify with failure, and we know from experience that failure is hard to take. When we fail at something, it as though it's the ultimate and irreversible tragedy of all time. We see it as the one aspect of life from which there is no reprieve and no reversal.
But, when you try something and fail, take heart. You're in good company, because Jesus failed in His own hometown—the place where He'd want very much to succeed.
I'm pretty sure Jesus knew what would happen, so I can't help but wonder if He set it up on purpose, knowing it would not go well. I say this because, as we read, he immediately sent the disciples out, two and two. He did it deliberately to lower the bar; to lower expectations.
When I sold vacuum cleaners in the sales meeting they would tell us to look for the "no's"
We know that when they came back they told how demons obeyed them, and the sick were cured. But, like I've said often, the Bible doesn't give us enough information. What about failures? Did everyone accept them right off? I'm sure they didn't, or Jesus would never have mentioned that part about shaking the dust of your sandals as a testimony against them.
No it's not just a chance occurrence that, immediately after this fiasco on His home town that He sent the disciples out two by two. It was in anticipation of failure. Two people will bolster each other spirits. When someone's not interested in what you have to say, you take it as a personal affront. But when there are two of you, you can laugh it off—"Aw man, that guy was a real jerk. Don't take it personal."
And He set it up so they would fail—take no food, no extra tunic, no money. Why?
So they would learn to trust God to feed them, get what they need, make converts, etc.
And it worked. And because it worked they're faith was set like steel—until, in their minds, the ultimate failure when He was crucified. But, how did that turn out?
When you rely solely on God, you do not fail—even when you think you have.
Here's the thing about failure: for those who persist it teaches wisdom, experience and strength of character. Think what it may have come to mean to the disciples later on when they met with defeat and they thought back and recalled Jesus in His own hometown.
The reason Jesus met with failure and rejection is because they knew Him as the kid who played with their kids; it was a small town where everyone knew everyone else. A stranger was immediately known and eyed with suspicion. They weren't able to accept that this boy, whom they all knew, was somehow special.
It's important to realize that there many years that are unaccounted for in Jesus life—like when He and His parents were migrants in Egypt when they left to escape persecution. Then there are the missing fifteen years between twelve until He suddenly showed up again in public ministry. It was probably during this time when He learned what he was to do and how to go about it.
I suspect that a part of His earth mission was to experience all aspects of life, while at the same time preparing Himself, and probably others, for the new way; and then it was time to get busy with His public ministry. That's all speculation, just like the perpetual virginity of Mary.
But, one thing's for sure: those people from his past were stunned; where did He get such wisdom? How can such deeds of power come from His hands? And still, they rejected Him. They reject Him because they have another image in their minds. I'm pretty sure of this from my own experiences.
In the past I've confessed in here about how I was the class clown; the kid no teacher wanted in her class. I was always a loose cannon who thought life was to be experienced, and the wilder, the better. But in time, after life defeated me over and over, I got serious.
The truth be known, I was always serious, but something just seemed to happen when I got around others. So now, when someone from my ancient past finds out that I am a pastor, their response is almost always the same, "Buck? You gotta be kidding!"
Nobody truly succeeds in life without experiencing failure.
The ultimate success story in life only comes about when a person finally decides that they can't do this thing alone and they come to God as a result. When you couple the experience you've gained by your failures, and then you link your personal experiences with God's leading, only one thing is the result...you win.
It's only by experiencing hardships that a person a capable leader. United Presbyterian Church, like any church is only as good as the people who lead it. One of this church's most capable leaders has been Eva Clarke. I'm grateful to her for her love for God and this church. And, it's been an honor to have served with her. But her term had expired and she needed to be replaced.
Two weeks ago this august body elected Jim Deardorff to replace her, and so this morning he will be ordained as an elder to replace the very capable Eva.
I do not know the battles of life that Eva has faced, nor Jim, nor any other member of session. Or, for that matter, any person in this church. But I do know this: the fact that you are here means that you have won.
With that in mind, hear this reading from 1 Cor. 12:4-7, 27
(At this point we hold an ordination service for Jim Deardorff as an elder.)