Disclaimer:
Because the sermon below sat on the pulpit, the actual sermon may not be what is written below...just the general direction.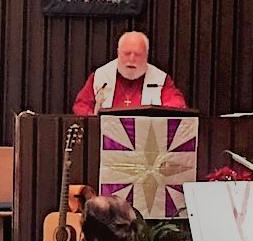 GOSPEL of Luke 6:17-26
17. He came down with them and stood on a level place, with a great crowd of his disciples and a great multitude of people from all Judea, Jerusalem, and the coast of Tyre and Sidon. 18. They had come to hear him and to be healed of their diseases; and those who were troubled with unclean spirits were cured. 19. And all in the crowd were trying to touch him, for power came out from him and healed all of them.
20. Then he looked up at his disciples and said: "Blessed are you who are poor, for yours is the kingdom of God. 21. "Blessed are you who are hungry now, for you will be filled. "Blessed are you who weep now, for you will laugh. 22. "Blessed are you when people hate you, and when they exclude you, revile you, and cast out your name as evil on account of the Son of Man. 23. Rejoice in that day and leap for joy, for surely your reward is great in heaven; for that is what their ancestors did to the prophets.
24. "But woe to you who are rich, for you have received your consolation. 25. "Woe to you who are full now, for you will be hungry. "Woe to you who are laughing now, for you will mourn and weep. 26. "Woe to you when all speak well of you, for that is what their ancestors did to the false prophets.
(NRSV)
Sermon for February 17, 2019
One of the things I've learned as a pastor is that many who read the Bible, don't seem to assimilate it into their own lives or in the world around them, including preachers. That was the observation that prompted the Danish philosopher Soren Kierkegaard to write: "I walked into a spectacular cathedral surrounded by stained glass windows. I watched as the preacher, dressed in silk robes opened a bible with gold edges and read these words: 'If anyone wants to be my disciple, let them sell their possessions, give away their money, and come follow me.'" Then Kierkegaard said "I looked around, and no one else was laughing!" (My own experience.)
How many preachers have read these words, but promise that if you get right with God He will bless you financially—or that if you give to the church you will prosper many times over. The only promise Jesus made was this, "You'll never hunger and you'll never thirst."
There appears to be something about the Bible that we just can't absorb if we're not already inclined in that direction. It seems we accept and absorb those aspects of the Bible that confirm what we already believe. There are, of course, exceptions—such as Tom Tarrants, who, in the 60s, was considered one of the most dangerous men in America. He hated all Jews and blacks and was responsible for the bombing of 30 synagogues, homes and churches.
He was shot nineteen times when he was finally taken into custody. But after a few months he escaped and, after being recaptured, spent 3 years in solitary confinement in a 6' X 9' cell. One day, out of the blue, he asked for a Bible. The Bible is often read to back up our already preconceived ideas, which is why he probably wanted the Bible. But sometimes something else happens and there's an epiphany—something we read suddenly gives us goose bumps and we gain an insight into truth. This happened to him when he read, "For what will it profit a man if he gains the whole world and forfeits his soul?" (Matthew 16)
That verse began the change that made him a different person. So different that he was released after serving only eight years of a thirty year sentence. Afterwards he went to seminary and then became a prominent pastor after renouncing all affiliation with the KKK and all other hate groups.
Why didn't he die after being shot 19 times? Because God knew what he could become in the right circumstances. In Tarrants case, 3 years of isolation in a 9 X 6 cell where thought and contemplation were his only companions; contemplation that caused him to ask for a Bible.
This is what happens to all who sincerely reach out to God through the Bible or in prayer, bringing us to this morning's scripture, which, seemingly has nothing to do with what I've been talking about, but that's not true. Jesus said, "Blessed are the poor, and the hungry, and those who weep, and those who are reviled. The connection, the common link, is God, because the poor, the reviled, the hungry all tend to reach out in prayer. And in so doing, develop a "God connection." No prayer is stronger than, "God help me, I need You."
All spirituality begins with prayer; it is how the soul is nourished. As the soul grows within the body, it becomes the most prominent feature of who we are. It is the soul's connection with God that can take a person—such as Tom Tarrants—and turn them around until they become loving and caring people.
The Bible is an historical road map that tells us how to live and what we should do, but it's prayer that is our actual link with the Divine Nature.
It doesn't happen overnight, but it does happen—and without fail; Tarrants, who hated Jews and blacks was completely turned around. He quite literally became a brand new man.
There were two parts to this morning's scripture—one with blessings and one with woes—so, why would Jesus tell us that those who are rich, or laugh and or are those who are spoken well of, are the equivalent of curse recipients? I love to laugh.
It's called, Ego. If we have a big one, it screams, "I Am Important!" and I suspect there's a subconscious thought involving God, and that is, "God Loves Me; not you."
Back in the early seventies I opened a mining supply story that had spectacular timing— I had been in business several months when the government removed the $35 an ounce limit on gold, and also the restriction on how much gold a person could own. The effect on my business was enormous as demand for mining equipment boomed.
Life was good! I was on my way to great wealth, but something within me changed…I don't know why, but I reached a point where if I didn't have at least six hundred dollars on my hip, I felt undressed; unprepared; afraid to leave the house. Additionally, I became arrogant, obnoxious and rude. I didn't even like me. I had too much money, so it didn't matter.
What I'm saying is, when we have everything we need or want, we don't need God. Not needing God, prayer becomes either nonexistent or self-centered—think of the Pharisee and the tax collector—"I thank you God that I am not like that tax collector," whereas the tax collector merely beat his chest and said, "God, be merciful to me, as sinner."
Tom Tarrants was shot nineteen times and survived because of God knew he would make him change, God knew what I needed…a good, solid dose of poverty.
Sometimes becoming one of God's servants involves painful changes. Not always, however. But, being a Christian always requires a whole-hearted commitment. In the Book of Revelation there's a letter to the Church at Laodicea where God says, "Would that you were either hot or cold. But you are tepid and I vomit you out of my mouth."
In other words, "You make me puke."
Now, what we read this morning about the blessings and the woes—don't take them too literally. Jesus—and the mid-East in general—are great users of hyperbole—gross over statement. Remember that there are many poor, hungry and reviled who don't have a heavenly chance because of their own self-centeredness. And, there are many rich who love and serve God…Lazarus, Mary and Martha come to mind—wealthy friends of Jesus.
What matters is prayer and commitment. We need God when we're in trouble, not when everything is running smoothly. So the rich don't pray—or do so self-centeredly; their connection is gone.
What we need to be concerned with is our commitment. Ask yourself honestly, what are you committed to? Money? Creature comforts? God?
When we place God above everything else in our lives, God takes care of the rest.
And it all begins when a hungry soul reaches out in prayer. Jesus tried to drive this home by saying, "Seek ye first the kingdom of God and His righteousness, and all these other things shall be added to you as well."
Let us pray…