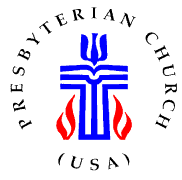 United Presbyterian Church
2360 Longwood
Ave., Reedsport, OR 97467 (541) 271-3214
Sunday Service:
10:30: Choir Warm-up 10:15 —
Office Hours

:

9:00-2:00 Tuesday, Wednesday, Thursday
Pastor's Hours:
Wednesday, Thursday and Friday from 8:30-4:00
. Saturdays: 9:00-12:00
.
Making a Difference and Changing Lives Since 1919
---
Disclaimer: The sermon below is what was prepared and sat on the pulpit; it may not be what was heard.
Pastor Buck during Joys and Concerns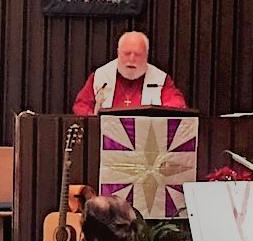 GOSPEL: Matthew 16:13-20
13. Now when Jesus came into the district of Caesarea Philippi, he asked his disciples, "Who do people say that the Son of Man is?" 14. And they said, "Some say John the Baptist, but others Elijah, and still others Jeremiah or one of the prophets." 15. He said to them, "But who do you say that I am?" 16. Simon Peter answered, "You are the Messiah, the Son of the living God." 17. And Jesus answered him, "Blessed are you, Simon son of Jonah! For flesh and blood has not revealed this to you, but my Father in heaven. 18. And I tell you, you are Peter, and on this rock I will build my church, and the gates of Hades will not prevail against it. 19. I will give you the keys of the kingdom of heaven, and whatever you bind on earth will be bound in heaven, and whatever you loose on earth will be loosed in heaven."
20. Then he sternly ordered the disciples not to tell anyone that he was the Messiah. (NRS)
Sermon for Sunday, August 27, 2017
(There won't be any more sermons uploaded until later in September, as I will be on Vacation)
I remember when I was a kid my mom told me that life were often far more fantastic than anything you could read out of a book. The story of Jesus is like that if you think about it—a God who came to earth and lived as a man; died, arose and ascended into heaven. This is more fantastic than any Greek myth. We believe this in the 21st century, but when looked at in this manner, you can understand why people don't believe. It takes more than mere intellect to believe. It takes a special kind of connection that can't be explained; that must be experienced.
What makes it easier to believe—and why the Bible is so important—is that it's all foretold in ancient texts. For instance: bibliophiles list of 230 prophesies of God's coming to earth. One of the most oft quoted said that He'd be rejected—Psalm 118, 21-23 21. I thank you for hearing me, and making yourself my Saviour. 22. The stone which the builders rejected has become the cornerstone; 23. This is Yahweh's doing, and we marvel at it.
You notice the past tense—it was a foregone conclusion. That's pretty amazing when you think about it—that that the Son of God would come to earth and then be rejected. Many of these prophecies are pretty obscure—but about 40 of them are really obvious, but only when viewed in retrospect, then we're able to look back and say, "Oh! So that's what that meant."
Because prophecies are not usually understood until after the fact is the reason why the Jewish elite of that day missed it and why Jesus said to Peter, "Blessed are you, Peter bar Jonah, For flesh and blood has not revealed this to you, but my Father in heaven."
For me the real question is, why would God come to earth? The most quoted and accepted answer is that He needed to die for our sins. I won't argue with that, but I also believe that He also had other tasks to perform, such as: 1. reveal the true nature of the Father—that He really cares about us; 2. to give hope to the hopeless; 3. to teach us a higher pathway to the Father. The last one is—as the Psalm above indicates, that he would be rejected—so His 4th and final objective would have been to found a church based on His teachings. Teachings that were given to us from the Source, and not diluted through, or added to, by prophets, priests and elders.
A part of Peter's revelation of Jesus' messiah-ship was that he would be the rock the church was founded on. Seems strange, because we know that Peter was truly a very wishy-washy person; hot one minute, cold the next. One minute he was willing to die for Jesus, and then turns around and denies Him three times. That was Peter's nature—impulsive, but not stable. Because of his habit of putting his foot in this mouth, Petros, "the Rock," would seemed to have been a joke.
But, it wasn't—when the chips were really down, Peter came through. He was the Billy Graham of his day. A preacher on fire for Jesus. Because of him, on the day of Pentecost 3,000 souls were converted and baptized! It may have been double that because, because women and children were not counted. Anyway, that was the beginning of the church we attend today. But, not only was he a fiery preacher, he would die a martyr's death on the cross.
So, Jesus' teaching would be kick-started by Peter and, as Jesus says, "The gates of Hades would not prevail against." Hades is an interesting word that's often confused with the hell of fire—which it is not. Nor is it a place of punishment. It is the abode of the dead. What Jesus was saying was that, "Even death cannot defeat the church!" meaning that His death, His dying, would not kill the Church. He will die, descend to the dead (hades), then rise again and the Church—His Body—would then blossom and grow.
It's been doing that for 2000 years. And, when it begins to fade in one area, with new life it shoots up in another.
It's much more exciting to think that, no matter what Satan throws at the church, it will survive. The church will continue because it is faith based on actual events more fantastic than any fantasy writer could dream up. It will manifest itself in many ways—some of which are not honestly representing Christ's teaching. But, the assembly, the church that Christ founded, will survive.
So, what is this Church of Jesus?
It is where we come to get fed and revive our spiritual batteries by fellowshipping with other believers. The church is both a starting point and a recharging station. A place of realizing that's there's more to come; a place where we come to recognize—as Shakespeare wrote, "There are more things in heaven and earth, Horatio, Than are dreamt of in your philosophy." The Bible and the Church are only beginnings—the rest is personal spiritual growth fed by our constant closeness with the Father and making that closeness manifest itself through our relationships with others.
The church is where you learn the basics—it's a, "Who's in charge," and a "how to live" type of thing. But spirituality—growth—has to come on our own through daily prayer. A time of beginning and ending each day with prayer. When you do, you find you're praying almost constantly—that life becomes a living prayer; a constant prayer. Finding God requires effort on our part—but we're not alone, because, as we reach up, God is also reaching down.
Today our world is one where material knowledge doubles daily. Sadly, the more the world learns, the further the average person gets left behind. It's no wonder drugs are so prevalent. We live in a dream world, a world of make believe that is even more hopeless than when Jesus was here because so many of us are not focused on living reality, but on being entertained.
One of the startling discoveries of our era is that, in spite of comparatively easy lives, there are more teen suicides today than ever before and the rate is going up. Well, shoot, no wonder. The world has become a place of cyber bullying; a place where more and more kids spend time looking at a small, rectangular piece of glass and electronics than at the world before them; a world in which the only time God is called on is when swearing; a place where socialization is done with someone in another town or across town. What I find bizarre is watching two kids, sitting side by side, texting one another. What is the point?
The point is that that way there is no personal inner action; that using LOL is actually more important than actually laughing out loud with another beside you.
Jesus is still the answer and the Church is where we learn the basics. No matter who you are; no matter how intelligent you are, the Church of Jesus still offers the only hope there is.
Listen to what the rejected Messiah told us: "I am the way, the truth and the life!" "Nobody gets to the Father except through me." When Jesus said that, it was a very primitive time compared to today. However…None of that has changed a wit! Jesus is still the way, the Truth and the Life that no one can achieve eternal life without.
It sounds like fantasy, but it isn't. It is fantastic. It is the truth. Jesus is the true foundation of the Church. The Church leads into eternity and a glorious future because Jesus is it's head. Amen