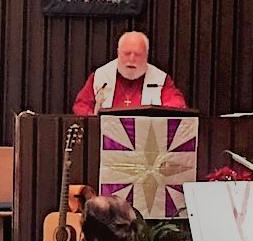 GOSPEL READING: Luke 9:28-43
28. Now about eight days after these sayings Jesus took with him Peter and John and James, and went up on the mountain to pray. 29. And while he was praying, the appearance of his face changed, and his clothes became dazzling white. 30. Suddenly they saw two men, Moses and Elijah, talking to him. 31. They appeared in glory and were speaking of his departure, which he was about to accomplish at Jerusalem. 32. Now Peter and his companions were weighed down with sleep; but when they were fully awake they saw his glory and the two men who stood with him.
33. Just as they were leaving him, Peter said to Jesus, "Master, it is good for us to be here; let us make three dwellings, one for you, one for Moses, and one for Elijah—not knowing what he said. 34. While he was saying this, a cloud came and overshadowed them; and they were terrified as they entered the cloud. 35. Then from the cloud came a voice that said, "This is my Son, my Chosen; 36. When the voice had spoken, Jesus was found alone. And they kept silent and in those days told no one any of the things they had seen.
37. On the next day, when they had come down from the mountain, a great crowd met him. 38. Just then a man from the crowd shouted, "Teacher, I beg you to look at my son; he is my only child. 39. Suddenly a spirit seizes him, and all at once it shrieks. It convulses him until he foams at the mouth; it mauls him and will scarcely leave him. 40. I begged your disciples to cast it out, but they could not." 41. Jesus answered, "You faithless and perverse generation, how much longer must I be with you and bear with you? Bring your son here." 42. While he was coming, the demon dashed him to the ground in convulsions. But Jesus rebuked the unclean spirit, healed the boy, and gave him back to his father. 43. And all were astounded at the greatness of God.
(NRSV)
Sermon for March 3, 2019
Transfiguration of the Lord Sunday
Peter, James and John went up a mountain with Jesus, and while there had a shared experience. Though we don't know what time of day this was, I've always assumed it was night, probably late at night because the disciples were "weighed down with sleep." For me that would be about 2, 3 in the morning.
I've also always assumed this because, though the Glowing face of Jesus would have been noticeable in the day, it would have been brilliant in the dark. I don't know, that's just the way I've pictured it.
During this Transfiguration Jesus' appearance changed and he was transformed into this glowing man, you ever wonder why? Because that's what happens when we come face to face with God. A similar thing also happened to Moses.
Something semi-similar happens when everyday people have been in really deep prayer. Ever see anyone in that state? I have, and when they came out of it their appearance is different. They didn't literally glow as Jesus did, and yet there was an aura about them, as well as a definite change in their appearance of being relaxed, calm, serene and at peace.
That's not our normally appearance. Unless we have just had a holy experience, we generally wear an appearance of stress. Normally, we're not consciously aware of it because it is the same expression we all have…it is our natural look; it's what we're used to seeing, so we don't notice it.
There are many parallels between Moses in Exodus 24 and Jesus at the Transfiguration. Both incidents: occurred on a mountain, involved Moses, and Godly fear when He spoke.
It was Moses who had prophesied, "Your God will raise up to you a prophet from the midst of you, of your brothers, like me. You shall listen to him" (Deuteronomy 18:15).
God confirmed this during the transfiguration, saying, "This is my beloved Son. Listen to him!" (v. 35). (Mark 9)
Our question for this day should probably be a reflective one: what was (or is) your own mountain top experience? Where have you been "Super Awed?" Where do you go to find such an experience? Do you have a place?
In today's world and today's societies, it's getting harder and harder to find such a place. For me it's this world—the natural, unhindered beauty of God's creation. The first time I think I actually experienced was while plowing on our farm in Illinois. I may have been 11 or twelve and I was looking back at the dirt turning over in a plowshare—and this has always amused me—it was just pure, plain dirt being turned over as I drove along, watching. And I thought it was the most beautiful thing I had ever seen. Dirt! I felt a kinship with it; connected.
While writing this I realized I was having a spiritual experience, an epiphany—common old dirt is one of God's most marvelous products. We can't live without it. No dirt, no life.
But dirt, by itself, can't do it. That may be why we love waterfalls so much, and lakes and oceans; no water, no life. Combine water and dirt, oh my, my, my!
But that may also be the reason we're in love with both sunrise and sunsets—no light, no life. Water, dirt, sun, mercy sakes—get out of the way, because life is going to happen...
But it takes another ingredient—some controlling the thermostat. Not much grows in the arctic regions…simply too cold. Not much grows in the desert…simply too hot. There has to be an optimal temperature—different crops have different needs, different growing seasons. Who controls the thermostat?
The same one who, if we allow, changes us. And when we change—become transformed because of Him, we begin to grow. I'm not saying we get transfigured, as Jesus was, but we become transformed. Those who commit themselves into the soil of God's love truly do get changed. We become different people. But, like planting corn, it's a slow process and we simply have to keep our roots in the soil of God's love.
Once we commit, then God waters and nurtures us in the soil of His love and in His light—the same light that made Moses shield himself with a cloth so the people wouldn't be frightened. And, you know what's wonderful? It doesn't seem to matter where we are in life's society, how humble we are, or how low we've sunk—Moses—the greatest lawgiver—was a killer who beat a man to death and then ran to avoid prosecution. Look at Paul—Christians worst nightmare; he became one of Christianity's greatest assets.
Jesus went up a mountain with three ordinary men and it changed them. There is simply nothing quite like the mountain top experience; it's extraordinary; one of those incredulous scenes where you can seemingly see forever as you look over other mountain tops. It's always amazing—and the time of day is irrelevant—at noon, dawn, or sun set. For those who are capable of receptivity, the mountain top experience just about tops them all, so to speak.
Then we come down from the mountain and we forget; we lose our awe. We forget what a wonderful place we live in—city folks sometimes never see it—no wonder cities are so crime-filled. But we forget and we close in all around ourselves because it's rainy, or it's cold, or we're simply having a hard time with life. When that happens, we need to get back in touch with God, God's world and His incredible plan for us.
I once read an article by a woman who boarded a bus in New York City. She had overslept, and, as a result, started the day on the wrong foot. Naturally, things continued to go badly at work. Additionally, her bus home was late and jam-packed. She said, "I was ready for a triple dose of Mylanta and a six-pack of Tums."
Then she heard a deep voice from the front of the bus: "Beautiful day, isn't it!" She could not see the man to whom the voice belonged, but he maintained a commentary as they drove along. He talked about the spring greenery, the beautiful church windows, the children romping in the park, the stately old firehouse, the lush cemetery lawn.
She said, "Something happened as he talked. People began to glance out the windows. They began to sit a little straighter. They began to smile." She said, "When we reached my stop, I got a glimpse of our self-appointed 'guide.' He was a plump, bearded man, wearing dark glasses and carrying a white cane. I stepped off the bus and, suddenly, all my built-up tensions drained away. God had sent a man who could scarcely see, to help me see that, when all seems dark and dreary, it still is a beautiful world. His beautiful world! God's beautiful world!"
Let's let God transform us so that, as happened in this morning's reading, when we come back down from our mountain top experience and run smack dab into life's realities, our batteries are fully charged and we can handle it, because that's the nature of life—highs, lows and a lot of in betweens.
God's recharging beauty is in the dirt, the grass, the trees, the sky, the oceans, lakes, rivers and in our friends. We have but to be still, listen, look and appreciate. Amen