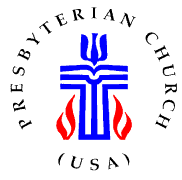 United Presbyterian Church
2360 Longwood
Ave., Reedsport, OR 97467 (541) 271-3214
Sunday Service:
10:30: Choir Warm-up 10:15 • Thursday Study Group: 5:30 - 6:30 (Starts in fall)
Office and Pastor's Hours:
Wednesday, Thursday and Friday from 8:30-4:00
.
Saturdays:
9:00-12:00
.

Making a Difference and Changing Lives Since 1919
---
Last updated: 09/19/2018
Pastor Buck during Joys and Concerns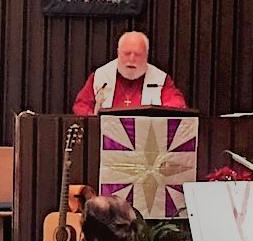 Sermon based on the Gospel of
Mark 8:27-38
27. Jesus went on with his disciples to the villages of Caesarea Philippi; and on the way he asked his disciples, "Who do people say that I am?" 28. And they answered him, "John the Baptist; and others, Elijah; and still others, one of the prophets." 29. He asked them, "But who do you say that I am?" Peter answered him, "You are the Messiah." 30. And he sternly ordered them not to tell anyone about him.
31. Then he began to teach them that the Son of Man must undergo great suffering, and be rejected by the elders, the chief priests, and the scribes, and be killed, and after three days rise again. 32. He said all this quite openly. And Peter took him aside and began to rebuke him. 33. But turning and looking at his disciples, he rebuked Peter and said, "Get behind me, Satan! For you are setting your mind not on divine things but on human things." 34. He called the crowd with his disciples, and said to them, "If any want to become my followers, let them deny themselves and take up their cross and follow me. 35. For those who want to save their life will lose it, and those who lose their life for my sake, and for the sake of the gospel, will save it. 36. For what will it profit them to gain the whole world and forfeit their life? 37. Indeed, what can they give in return for their life? 38. Those who are ashamed of me and of my words in this adulterous and sinful generation, of them the Son of Man will also be ashamed when he comes in the glory of his Father with the holy angels."
Sermon for Sunday, September 16, 2018
When I was young I grew up listening to the radio—wonderful programs that stimulated the imagination. As I listened, I could imagine everything in my mind's eye.
I'm so glad to have that in my early history, for in a way, it was like listening to the ancient story tellers—those people who kept history and legends alive as they sat around a campfire at night, telling their epic tales. And, as they spoke the listeners minds were actively following along, picturing what was being narrated.
The imagination is a human's way of imaging that which is not before them. The ability to see what is not there.
Imagination is necessary envisioning and recognizing the Kingdom of God. It's our way of being able to picture that which is to come and understand that it is real, but can't be seen.
An Episcopal preacher by the name of Barbara Brown Taylor wrote a book, The Preaching Life. She opens with one of her favorite memories, which is not really hers, but her mothers. She says, "My parents and I lived in rural Kansas, in a tract house on an old cornfield where the west wind blew so hard that everything in the yard grew toward Missouri." Beyond our small home was a patio, a swing set and a long view to the east, where a convent sat in the distance like an oasis in the broom grass. One evening her mother missed her in the house and found her outside facing the convent and calling at the top of her lungs, "Nino!"
No one knew who Nino was, least of all Barbara. But she called to him every day at dusk, singing his name across the dark field with the west wind in her hair and the setting sun at her back. He was no imaginary playmate because he never answered her call.
She now knows that "Nino" means little boy in Spanish, which doesn't explain anything, but I love what she says about it: "We are born seekers, calling strange names into the night knowing that we're not supposed to be alone."
Calling out strange names in the night—that's prayer—even for a three year old.
If you ever heard her speak you'd know that God was in her, even then, using her imagination to recognize an unseen reality. God's world—the next world—is so different from this one that it can only be seen by humans in the realm of the imagination. Children seem to automatically recognize God and angels. But as adults many of us put our imaginations away. As Paul said in 1 Cor. "13:11. 11. When I was a child, I spoke as a child, I understood as a child, I thought as a child; but when I became a man, I put away childish things."
That's too bad, because our minds must be free to visualize and imagine, and then God becomes seeable, hearable, reachable. Which is why Jesus said we must become as little children to enter the Kingdom of Heaven.
I'm not saying that God is a figment of the imagination. What I am saying is that we must let our imaginations loose to recognize the divine. Because through our imaginations we can visualize what can't be seen without it. Imagination—the ability to image and understand sets us apart from the animal kingdom. Through the imagination God reveals that which is not yet known here. It is one of our most precious gifts and we often discard it as fantasy as we age. What a pity.
Children have imaginations. As a little boy I pushed small cars in the dirt and made engine sounds with my mouth. I put a stick between my legs as I galloped pretending it was a horse. If I didn't have a cap pistol I shot finger guns. Everything was accompanied by mouth sounds of real guns shooting, horses galloping, engines roaring. We were good at it. I remember a small girl wanting to play house with dolls. "You be the papa and I'll be the mama, OK?" It's no wonder Jesus said, "Truly I tell you, whoever does not receive the kingdom of God as a little child will never enter it." Children aren't yet grown up and jaded.
Jesus said, "The Father and I are one," and "To have seen me is to have seen the Father." This is the same Father who hovered over the deep, who created order out of chaos, who breathed life into Adam and Eve—and only through our imagination can we see this. Only in our imaginations can we grasp the reality of creation. Only in the realm of our imagination can we read the opening verses of Genesis and see with our minds and understand.
I suspect people who claim to be atheists have no imagination to see God with.
I once had an interesting experience while praying. I'd given my life to God in the past. But I tend to do this over again periodically—I don't know whether I'm reminding God or myself that I'm His. I finally realized that once I've given it away, it's no longer mine to give. However, that week I realized I had given my heart, mind and soul, but not my free will.
This bothered me—heart, mind and soul—but I was still free to do as wanted. Free will is a whole lot harder to surrender. If you give away your free will then you can only follow what God wants, with no ability to say "No!" So in the end I finally offered God my free will.
And you know what? He graciously rejected it. And I heard, "If I take your free will you're a slave and of no use to me…I have my own free will."
With that I realized that we must make our own decisions and try our best to discern God's will through prayer and that we will make mistakes due to our weaknesses, and that's OK. What's important is our striving to learn God's will. We will make mistakes, many of them, but that's just growing up and becoming strong in the faith. When a baby learns to walk it doesn't mean he'll never fall again. And fall we do, over and over again and again.
Without imagination God couldn't communicate with us—not me—not you. I gave my life to God years and years ago. It was a decision that took place in the realm of my mind. And yet it was more real than going to work on a Monday morning.
When we give our life to God through Christ we don't give away anything. It's a mental agreement between us and our Unseen Father. We're consciously agreeing to do our best to follow God's will. In doing this we're denying ourselves, picking up our cross and following Jesus the best we can. This is a free will commitment that we will have to keep making over and over, just like Peter who gave his life to Christ and then denied Him three times. This morning he was on a spiritual high one moment and called Satan the next.
Over and over he was forgiven. Over and over we're forgiven.
We're all called to something high and each of us has fallen short, just like Peter.
If we lose our imaginations our futures get stark and nothing is real but the mortality of our life. Without imagination we're just waiting to die, alone and forsaken.
Imagine yourself hearing what He's saying, because He's saying, "Go for it. I'll be there." God is in you. He's in you now. Is He dying of boredom? Or are you living a full life?
Christianity has changed a lot, but all of us are still called to follow Jesus—to deny ourselves, pick our cross and follow Him in the best manner that we can. Let Christ lead you into the eternity that is to come. Listen with your imagination as He reveals to you the eternity that is, in truth, the ultimate reality. Amen